Many factors will determine the direction you may go in relation to plans to stay at home. There is much to be considered in making plans to stay in place. Planning ahead may be critical.
Our Aging Well Resource Coordinator can help you with your plans and supports you may need to help.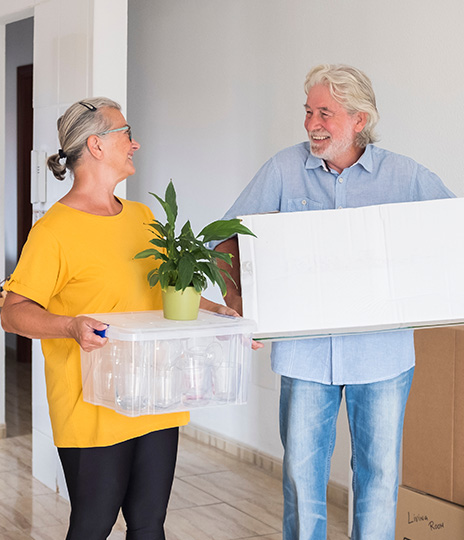 Home Modifications
Home modifications can help you stay in your own home. There are different types of modifications that can help ensure safety and allow for more independence in your daily living activities. Modifications can range from simply updating your lighting to removing rugs to installing ramps or grab bars to investing in a stairlift.
The National Association of Home Builders has a directory of professionals with home building designations. The Certified Aging in Place Specialist (CAPS) designation lists home remodelers with specialized training in Aging-in-Place design. You can also search by state and city. Find your Local Home Builder Association.
For assistance finding certified specialists in your area, you can also reach out to our Aging Well Resource Coordinator.
Hiring a Contractor
There are thousands of legitimate, ethical contractors to choose from around the country. Unfortunately, there are also scam artists looking to cheat you out of your money who pose as legitimate contractors. You can never be too careful when hiring a contractor. The National Association of Home Builders has tips to help ensure you don't get scammed.

Here are a few highlights:
Interview several businesses before making a final decision
Consider finding a Certified Aging-in-Place Specialist
Meet them in person — personality fit is important
Ask for references for similar work completed
Review ratings on well-established websites
Make sure they are licensed for the work you are asking them to do
Ask for proof of insurance
In preparing for the job obtain the following: total cost, begin and end date, payment schedule, process for obtaining building permits, process for any changes that may be needed and warranties for products
Not sure what modifications you should be considering? Aging in Place breaks down potential
modifications to consider by room
.
Home Safety
Ensuring your home is safe should be a top priority. To get started on an assessment of your home's safety, University at Buffalo Department of Rehabilitation Science put together a Home Safety Self-Assessment Tool to help you assess each room in your home as well as entrances. The tool also provides solutions to identified issues.

For additional assistance in assessing your home for safety, Our Aging Well Resource Coordinator can put you in touch with local resources.
Fall Prevention
Falling is the leading cause of non-fatal injuries for older Americans. Not only can it be a safety hazard, it can also threaten your independence and livelihood. The Centers for Disease Control and Prevention's STEADI Initiative had lots of materials to help with prevention. In addition, MyHealthfinder has quick tips to help lower your risk of falling.

The Aging Well program can help you address your risk for falls and teach you how to protect yourself from injury and support your independence.